Self Shot Tranny Ass!  Hey again its me Vitress and this is a photo that I did just a few hours ago. I was surprised how it came out so I wanted to share it with you.
I really hope you like it its called Self Shot Tranny Ass . And this is just me in a sexy black bra showing my ass in a selfie shot that I think is pretty hot. I do a lot of these photos and also the movies of me. I like to do the selfie thing. To me its a turn on and also makes the guys, you feel more involved.
Let me explain how I did this one. My little camera is sitting on the top of my stereo. I aim it at where I want to stand and then I hit the timer button. Its often funny some of the photos I get this way. But as you can see this one turned out pretty sexy and my tranny ass looks pretty tasty!
But maybe if your interested you can come one day and do the photo set for me. We of course will end up doing what comes natural as we get hot. And I always get hot when I am stripping and getting naked to masturbate. Oh and just in case you were wondering. When I get hot and need to cum, I always masturbate my ass with something. Using a toy or my fingers or a cock when I can makes me cum so hard. I love the feeling.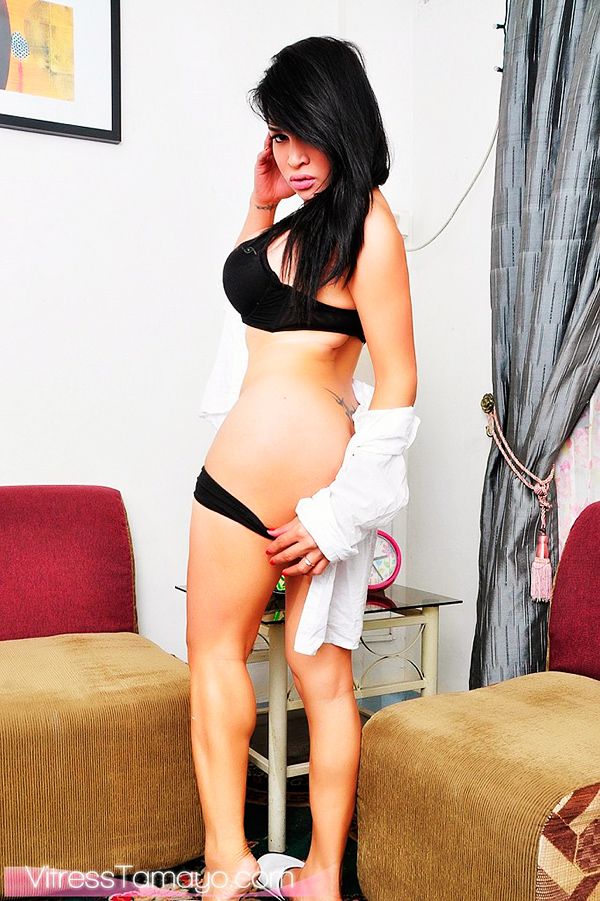 Selfie of my ass in the mirror
For those of you who want to see a few more samples. You can click around on my site here with the free ones. But once your cock is hard, click the image and join me so we can cum together!
My Free tranny ass samples.