Ladyboy Cleavage! You wont find better than on Vitress Tamayo! Wow! I really hot that you like the look of Ladyboy Cleavage because I want to share this photo set with you. I think it shows nicely how much cleavage I have! Yes I have big boobs. And I think that my tits look amazing when my cleavage is showing. I actually like going out with any sort of shirt. Any kind of Dress or Bra that shows my cleavage! When my boobs are up and out I have every mans attention!
The odd thing is I often get the desiring looks from women as well as men. Do you think that they can tell I am a Ladyboy? Or do they just want to play with my tits like you do? Have you had the time or taken the time to check out my members area? Do it right now!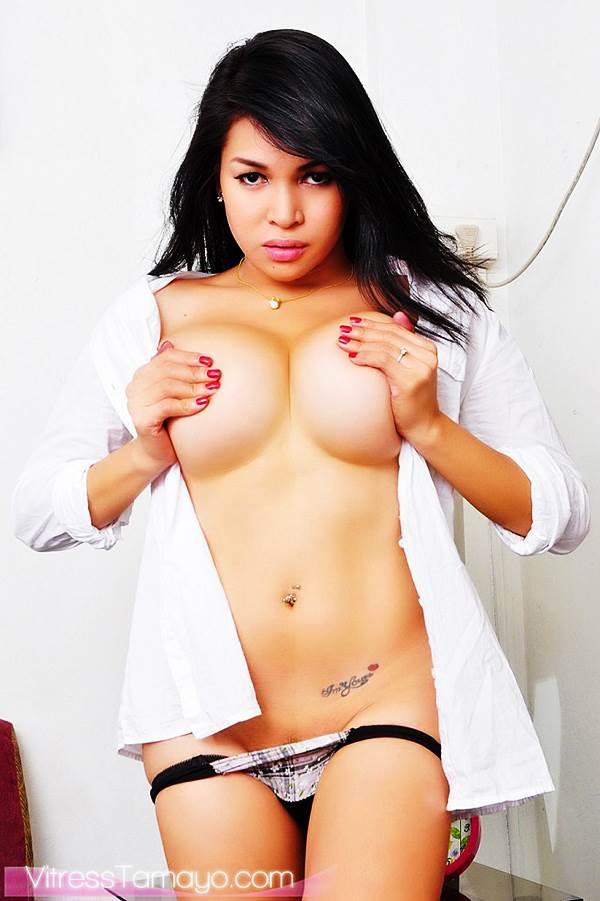 What other types of clothing would you like to see my Ladyboy Cleavage in? Bikini tops? Also Bra's and Tight shirts? How about tank tops or t-shirts? I tend to like playing dress up in all sorts of cloths. Maybe if you look around here on the blog. You might find something that turns you on.
Also make sure to leave comments on each outfit that you like. If it shows lots of cleavage then I know what you are looking for and what to shoot for you.
Furthermore I know whats going to work to get your cock hard so we can have fun. And sex and fun is one of the main things I am looking for when it comes to Men. I show you my cleavage and you show me your cock. Then we have a lot of fun fucking each other silly. And I know it all started with your love of Ladyboy Cleavage!