Tranny legs! Do you like mine? I personally think I have some of the best tranny legs online! I love to walk and exercise and it keeps my legs in shape and also hard. I know they look a big soft but I have muscle under there and you will feel it when I wrap them around you! Have you seen my legs when I have one sexy high heels? If not ask yourself right now why not? Take a few minutes to really enjoy the photo below and then leave me a comment about how this photo makes you feel. Do I excite you? Did you get turned on?
I really love the look of my legs in these heels and short dress. Can you imagine how it would be to sit in front of me and see the flash of panties? As I cross and also recross my legs? With my sexy lace panties you will see my cock as well.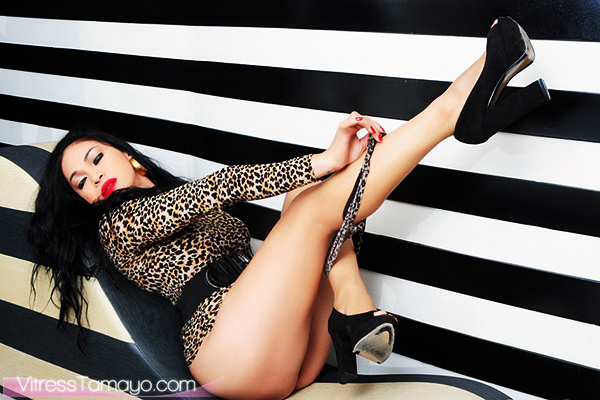 In the case of this photo my panties are leopard print just like the dress. It happens to match with the shoes and scene. Normally I have on Lace panties so that when I do flash them you can see my cock. Also I love to go without panties as often as I can. That of course depends on the dress and how well I can hide my cock.
I dont have the biggest cock but when it gets hard its noticeable and I do like to hide it. Unless you ask me to do other wise. Let me know what sort of man you are and what you desire. I want to make you hard and happy and ready to cum.
Most of the sets of videos and photos in my members area have me in sexy high heels showing off my tranny legs! Some I have in flat shoes but my legs still look amazing. Take a moment to post here about the photos and also in my members area. Join me today and let me know what you think!